Hey there savvy shoppers! Remember when you used to follow mom or dad to "Jusco" back in the day – and they used to prepare for heavily discounted bedding, grocery, apparel, electronics, etc for Members' Day? If you're a fan of great deals and exclusive perks, you're in for a treat because we're about to dive into the awesome world of AEON Members' Day (known widely as A Day!) – all in conjunction with AEON's 39th Anniversary!
AEON – your favorite retailer; we know how to throw a party, and this one's just for you! Buckle up as we take a casual stroll through the fantastic benefits of AEON Members' Day and how you can make the most of it.
So, What Exactly IS AEON A Day?
A Day is our special AEON Members' Day which usually falls in the same month of our anniversary in September – it's like your VIP pass to shopping nirvana. It's a special day when AEON rolls out the red carpet for its loyal customers to say "thanks for being awesome." Picture this: exclusive discounts fo up to 70%, rock-bottom prices, FREE Gifts with a minimum spend of RM200, Lucky Draws with minimum spend of RM100, Referral rewards and a shopping experience like no other, all packed into ONE fantastic day.
Why Join the AEON Club?
Before we get into the juicy details of AEON Members' Day, you've got to be part of the club, and that's as easy as pie. Here's what you get when you become an AEON Member: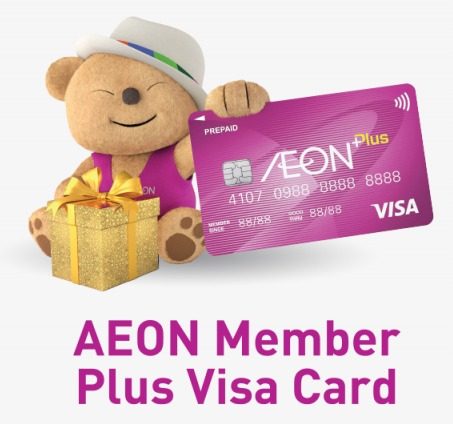 1. Secret Handshakes (Okay, not really, but close!): On AEON Members' Day, members get access to discounts that non-members can only dream about. It's like having a secret coupon stash that's only for you. Sign up on-site and get a FREE pillow and AEON vouchers worth RM10! Refer 2 friends and get an RM10 voucher. RENEW your membership and also get an RM10 voucher! So many vouchers!!!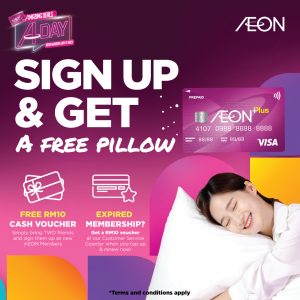 2. VIP Treatment: Members often get the VIP treatment with exclusive access on Members' Day with members-only pricing and rewards.
3. Deal Bonanza: If discounts weren't enough, AEON cranks up the excitement with special promotions. Think free gifts with purchases, bonus points, fun, sure-win activities to spice up your shopping.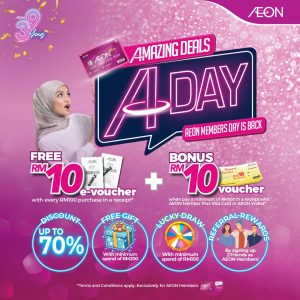 Mastering A Day Like a Pro
Now that you're pumped up about AEON Members' Day, let's talk strategy:
Plan, Plan, Plan: First things first, check the AEON website or ask your friendly store folks for the next Members Day date. Make a shopping list and set a budget.
Early Bird Gets the Discounts: Get to the store early to snag the hottest deals. No one likes a latecomer when the savings are flowing! Prepare for earlycomer-aunties already awaiting at the shutters!
Flash Your Membership Card: Don't forget your AEON membership card. It's your golden ticket to all the sweet deals.
Explore All Corners: AEON Members' Day discounts aren't picky; they apply to pretty much everything. So, roam around the store and explore all the departments.
Stay in the Loop: Keep up with AEON on social media and FOLLOW US! That way, you won't miss any updates about upcoming Members' Day events and exclusive offers every Thursday!.
AEON Members' Day is your golden opportunity to shop like a pro and save like a boss. Whether it's exclusive discounts, personalized deals, and freebies specially for our members, AEON knows how to make your day special. So, mark your calendar, get ready to rock that AEON membership card, and prepare to shop till you drop at the next AEON Members' Day – click on the image below for more info. Happy shopping, bargain hunters! 🛒💰🎉